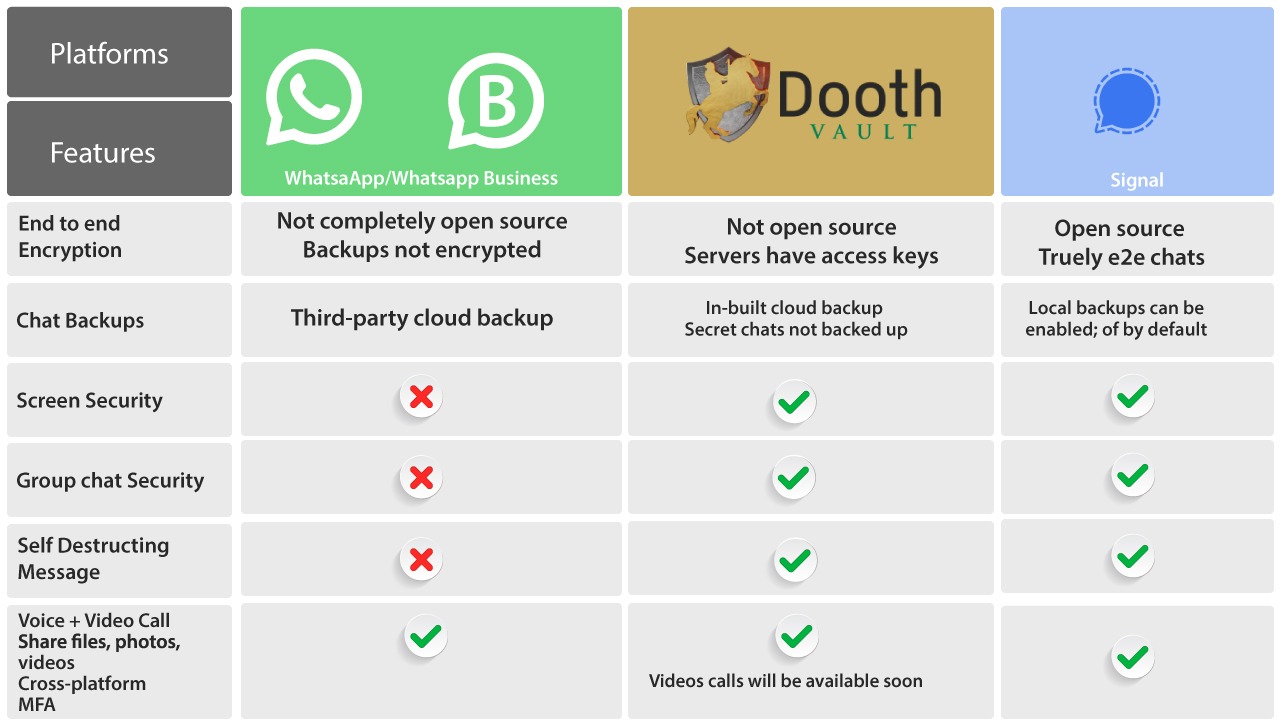 WhatsApp has kicked off a new debate regarding data privacy within online platforms by updating its privacy policy for users. The new policy will give WhatsApp more access to the personal data of users and permits them to share this data with their parent company Facebook. Moreover, those users who don't agree to this update will not be able to use the app from 8th February. As there are already major apprehensions regarding WhatsApp's data collection, which is huge compared to other apps, this new initiative has sparked further controversies concerning the data security of users.
In this context, let's analyze three popular messaging apps WhatsApp, Signal, and Doot to identify the best private social network platform that provides maximum flexibility and data privacy to the users.
WhatsApp
WhatsApp is the most popular private messaging app now. But WhatsApp's data collection policies have created a barrier to its growing reputation. Here is an analysis of the app's online security features and how much they protect users from unauthorized attacks.
Although the app provides end-to-end encryption, this is not applicable to backups. It uses third-party cloud backups and is vulnerable to attacks.
WhatsApp does not encrypt metadata that is used to carry communication between two endpoints.
Security features are not applicable to group chats and can be accessed by hackers and other software. Some group chats have been found earlier to be indexed in Google search.
It collects a whole lot of information including device ID, user ID, advertising data, purchase history, location, email address, contacts, product interaction, crash data, performance data, and payment info.
Signal
Signal is an open-source messaging app widely used by academicians, researchers, and journalists around the world that is well known for its privacy features. The app instantly rose to fame when Tesla CEO Elon Musk tweeted "Use Signal" a few days ago. Let us check the major security features of Signal.
All chats, photos, videos, and voice messages are completely end-to-end encrypted.
Local backups can be enabled to protect backup messages.
Options for screen security and group chat security has been enabled
Messages will get self-destructed after a certain time
Signal collects no user data other than your phone number.
Doot
Doot is a highly advanced private messaging app that offers device-to-device encryption for all chats, voice calls, and video calls. It has been envisioned as a perfect solution to all data security issues providing absolute privacy to users. Let's take a glance at its security features.
End to end encryption for all chats including group chats.
In-built cloud backup to secure all backup messages.
Self-destructing message option enabled for secret chats.
Unlock application through multi-factor authentication
Video verification to create and enter calls
Doesn't collect or store personal information from users.
How to choose the best app?
It is not always easy to choose the best private social network platform that caters to our various needs like practicality, simplicity, and security. While WhatsApp is the most popular private messaging app at present with numerous practical applications for users, its data security is questioned to a great extent with users migrating to other apps. Signal, although a secure app has its own limitations, being an open-source platform. Doot, with its multi-layer security and practicality in daily use, will have a great role to play in the very near future as one of the most trusted private messaging apps.
https://doot.world/wp-content/uploads/2021/03/WhatsApp-Image-2021-02-19-at-9.34.10-PM.jpeg
725
1280
arun vijayakumar
https://doot.world/wp-content/uploads/2021/03/cropped-65b9741a-9a8a-4317-a225-5f667ed4ffd1.jpg
arun vijayakumar
2021-03-22 06:32:04
2021-03-25 13:44:07
WhatsApp vs Signal vs Doot